Efflstop Efflorescence Remover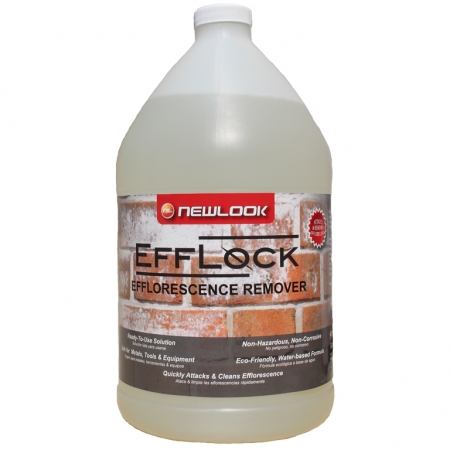 Revolutionary Efflorescence-Curing System - No other admixture is guaranteed* to stop efflorescence. Permanently.
Remove Efflorescence & Keep it From Coming Back
A fast-acting, water-based cleaner used to remove efflorescence from existing concrete and masonry surfaces. Efflock Efflorescence Remover attacks sodium chloride deposits (efflorescence) to make it easier to clean off. Use before treating concrete and masonry with EffLock Topical Treatment.
How to fix the problem
If efflorescence is the dandruff of concrete then NewLook's EffLock Remover is the Selsun Blue™ you need to remove it! Permanently.
EffLock is a revolutionary product system that prevents and completely eliminates both primary and secondary efflorescence in concrete and masonry mixtures. Guaranteed. The water-based, eco-friendly formula permanently reacts with and binds concrete chemical impurities at the nano-molecular level to prevent the leaching of efflorescent salt, resulting in enhanced concrete performance.
What makes Efflock the solution for you?
Ready-to Use Solution
Removes efflorescence
Strong etching properties
Safe for metals & equipment
Use before EffLock Topical Treatment
Works with pre-cast, brick, block, pavers, stucco & more!
 
Uses & Benefits
Use EffLock Efflorescence Remover to remove calcium carbonate build up from concrete, masonry and metal surfaces.
May also be used to clean pre-cast concrete, concrete, masonry, grout, tile and many natural stone surfaces.
Will help remove lime and hard water deposits, joint cement, cement grout haze, light mortar residue, rust and other dirt and grime.
Ready to use formula may be diluted with water for light cleaning
Environmentally-friendly, non-toxic, non-hazardous formula
100% biodegradable will make clean up easy
 
Packaging & Application
Efflock Efflorescence Remover is available in the following sizes:
750ml
1 gallon
Coverage: Efflock Efflorescence Remover covers approximately 200 sq. ft. / gallon.
Contact Details
Request More Information
Details of the product above will be automatically included with your enquiry.