Drive Hard™ Premium Concrete & Masonry Weatherproofer & Fortifier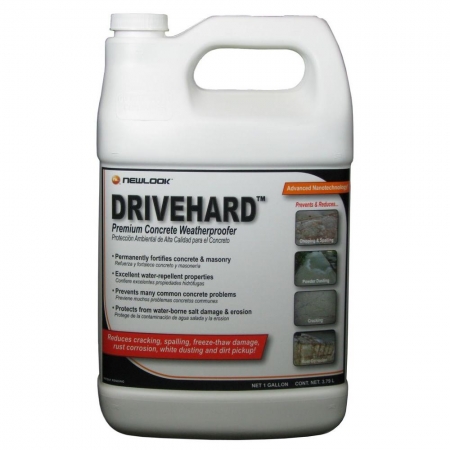 DriveHard™ is a premium concrete and masonry weatherproofer and fortifier. The concrete sealer penetrates deep into the surface to create a chemical bond that helps prevent damage from many common problems, including repeated freeze-thaw cycles. The patent-pending formulas create a breathable, durable and water-repellent surface. DriveHard™ leaves a natural-looking finish that does not create a film or change the surface texture (or color).
How does DriveHard Technology Work?
DriveHard's patent-pending formula leverages an advance nano-silicone / silicate technology that penetrates and efficiently reacts with the unique chemical properties of your concrete and masonry. The reaction creates a strong bond that strengthens, densifies and fortifies your concrete to help it resist abrasion, water-disolved salts (alkali) and other damaging substances.
The advanced nano-technology used in DriveHard's concrete sealer helps to reduce and minimize the occurrence of common concrete problems like spalling, scaling, cracking, chipping, dusting (efflorescence) and other types of physical or chemical damage caused by repeated freeze-thaw cycles. Using DriveHard to winterize your concrete will help to ensure that it doesn't fall apart during the winter. This is why you should use DriveHard to tell Old Man Winter to take a hike!
Benefits:
Fortifies concrete, masonry & brick
Excellent water-repellent properties
Helps prevent many common concrete problems
Protects from water-borne salt damage & erosion
Easy to install–just brush or spray it on!
Why do I need DriveHard?
Your concrete and masonry are incredibly vulnerable to damaging effects of the environment. Think of your concrete like a small child going ten rounds with Mike Tyson. Snow, rain, dirt, chemicals, traffic and other common types of wear and tear will only cause your concrete to break down over time. Since the top part of the substrate is always the weakest part it's the first place you'll see the effects of wear and tear (spalling) unless it's been fortified / weatherproofed with DriveHard. Notice how your neighbor's driveway has spalling and chipping? Well, let's just say your concrete doesn't have to share the same fate. And don't forget the fact that concrete and masonry is expensive. No one wants to spend thousands of dollars replacing it. So use DriveHard to protect your investment!
Coverage & Packaging
1 gallon covers approximately 125-200 square feet
*Coverage rates will vary and are based on surface porosity, concrete texture, temperature, and method of application. Use a Newlook Applicator Brush to apply DriveHard.
Contact Details
Request More Information
Details of the product above will be automatically included with your enquiry.